Verwalten Sie mühelos das Außendienst-Merchandising
Verwalten Sie die Arbeit Ihres Teams:

Planen Sie Kundenbesuche und Aktivitäten mit Erinnerungsfunktion und Aufgabenerstellung

Verschaffen Sie sich einen vollständigen Einblick über die Besuche Ihres Teams, einschließlich Aufgabenerfüllung, gesammelte Informationen und erreichte Ziele

Verwenden Sie detaillierte Berichte, um die Leistung Ihrer Teammitglieder zu bewerten und zu steuern

Verwenden Sie von Ihren Vertriebsmitarbeitern aufgenommene Fotos, um die Tätigkeiten zu visualisieren, vergleichen und zu verbessern

Prüfen Sie Produktplatzierung und das Visual Merchandising
Sammeln Sie Informationen über den Wettbewerb: Preise, Warenpräsenz, Warenplatzierung und Werbeaktionen

Stellen Sie dem Marketing aktuelle und genaue Informationen am POS zur Verfügung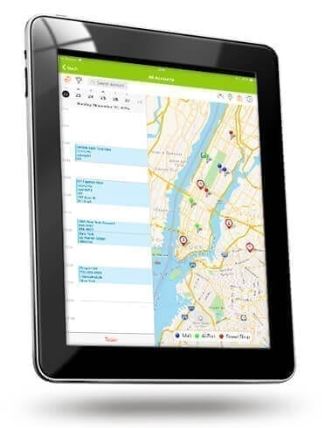 Echtzeitinformationen für bestes mobiles Merchandising
Datenerfassung beim Handelspartner / POS
Der Außendienst erfasst ohne Mühe Informationen zu Produkteinführungen, Kundenzufriedenheit, Konkurrenz und Werbung am Point of Sale. Besuchsberichte an die Vertriebsleitung erfolgen durch leicht konfigurierbare Formulare und Umfragen.
Fotoaufnahmen
Nehmen Sie Fotos von Produktpräsentationen auf und taggen Sie diese nach Kunde und Standort. Vertriebsleiter können in Echtzeit kontrollieren, ob der Handelspartner die Produktvorgaben und Merchandising Guidelines einhält.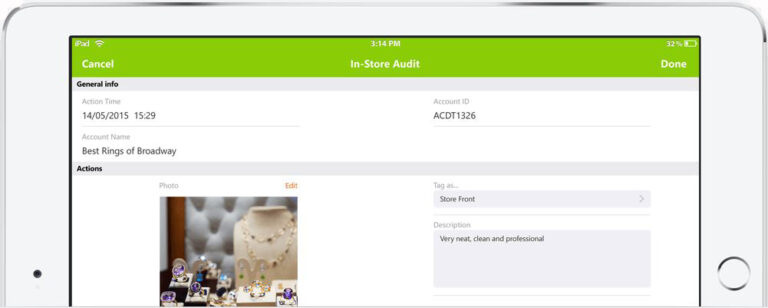 Konfigurierbare Formulare
Konfigurieren Sie mit nur wenigen Mausklicks die Formulare, die Ihr Außendienst am Point of Sale ausfüllt. Definieren Sie freiwillige und obligatorische Felder, Feldtypen, Menüwerte und Bestätigungsregeln. Erstellen Sie soviele Formulare, wie Sie benötigen und wollen.
Strukturierte Audits
Außendienstler erfassen strukturiert alle entscheidenden Daten am Point of Sale, wie Produktpreise, Warenpräsentation und Einhaltung von Visual Merchandising Guidelines.